YOU MOVE ME
Dages Juvelier Keates and Alexis Steeves propose a conversation between two dancers who are relaxing open, listening, articulating what Rosalind Crisp calls "news from the body." Words are important. Language congealed from Keates and Steeves' combined seventy years of studio practice form a layer of contact, a sediment in the space we all inhabit. They will explore the possibilities of intimacy with each other, with observers, and with various affective, socio-bio bodies as they respond, relax, and refine their attention to the surfaces and scale of skin and gaze. Sound design by Joshua Dumas.
YOU MOVE ME is an evening of performances dedicated to movement curated for TWOFORTY by Natasha Marie Llorens. The faux velour inflatable couch with inset cup holders makes so many decisions for the body. Alexa West wants to know what is left for movement to discover. It is so difficult to find another body in time anew, ungoverned by projection and structural violence. Dages Juvelier Keates asks what the role of language is in attenuating that difficulty. YOU MOVE ME signals no virtue with movement, but understands it as a way to think about what is happening to us now, which is not the same as structural analysis because the body is excessive of that kind of thought, constitutively. *
TWOFORTY is a loft project space founded by Amanda Turner Pohan.
Natasha Marie Llorens is an independent curator and writer based between Marseille and New York.
* NML would like to thank Al Freeman for the term 'virtue signaling'
Free Your Flocking Clown: Post-Truth Edition, 2017
Post-truth edition. We are French, we are Estonian, we are American. We benefit from white privilege we buckle under patriarchy. We are immigrants, actors, activists, aggressors, deflectors.
We consider: autocracy, projective identification, having a voice and being alone together.
HAM (high art moment) is a new collaboration between Amélie Gaulier-Brody, Dages Juvelier Keates, Rain Saukas and Alexis Steeves. We have been presented by Art Helix (Permission Slip), Dixon Place (Crossing Boundaries and Under Exposed), Triskelion Arts (CollabFest) and Parsons/The New School (City and City). We have partnered with visual and sound artists Marion Bizet, Joshua Dumas, Shani Ha, and Elizabeth Tubergen in our post-humanist, post-dance inquiry. HAM was recently awarded a residency at The Stable in Montreal, Quebec.
At Spring Movement Center for Performance Research NYC
Unsee
HAM with ntilit
Unsee is an invitation to perceive what's known anew. Throughout the duration of this 3-4 hour performance the audience is guided to an indirect and temporary investment of a personal object or piece of clothing. These volunteered materials will be continuously combined and converted into wearable sculptures by ntilit. HAM will activate, inhabit and embody each fresh piece, folding it into, and eventually out of, the performance. Four dancers and one artist-designer - proposing, finding, fumbling, stating, entangling and unraveling what is seen and re-seen. By engaging and intriguing notions of what's private and what's shared this performance offers unexpected recognition. Responsibility, expression, intimacy and irreverence are all at stake as the personal transitions to the collective and back again. The experience and investment of both performer and audience is infinitely unfolding - making space and time for new ways of seeing, embodying and being within the haptic world we cohabitate.
HAM is:
Amelie Gaulier
Dages Juvelier Keates
Rain Saukas
Alexis Steeves
Our practice is one of being alone together. Our work emphasizes individuality; each dancer is always "soloing"-- seeking pleasure, looking and being looked at, unholding, enjoying the breath and gravity. We are not institutions, we are not museums, we are not abstractions, we are not sites of occupation or projects of improvement. Our dancing bodies are a symphony of polyglot, polyrhythmic conversations.
Shown at The Neo Domestic Performance Art Festival Glasshouse, NYC
Bounce Bounce
E/D is the collaborative alter-ego of artists Erin Cairns Cella and Dages Juvelier Keates. Inspired by images of floating buoys, pop-diva feminism, and the notion of a "strong woman," E/D's latest work, Bounce Bounce, unpacks the assumption that physical resiliency and emotional buoyancy are inextricably linked. This choreographic and sonic research complicates narratives of resiliency embedded in performances of femininity (ex. "What doesn't kill you makes you stronger" - Kelly Clarkson, Freidrich Nietzsche). The pursuit of bodily perfection and control dominates concert dance training and femininity. As such, physical performance becomes bound up with pleasure in, and identification with, an able, flexible, legible body-- a body that performs "strong woman." Such bodies perform a kind of resiliency, but what happens when we can't or don't bounce back?
Using sound, light, imagination, and affect as material, E/D inhabits composer Jascha Narveson's arresting soundscapes with lighting by Andrew Dickerson.
Free Your Flocking Clown: USA 2016
2016 Election edition. We are immigrants, we are women, we are queer. We benefit from white privilege we buckle under patriarchy. We are actors, activists aggressors, deflectors. We are a flock of humans.

We consider: looming, listening, projective identification, and the sniffling of Donald Trump.

Sound collaborator: Joshua Dumas
"CollabFest" at Triskelion Arts NYC
Porous Torus 2016
HAM
In collaboration with the visual designer Shani Ha

A quartet with the interactive sculptures of Shani Ha which question the body in its rapport with intimacy and otherness. These sculptures extend the body and become social prosthesis that one can appropriate to create new contexts of proximity.

Shani Ha's Embody project is a response to everyday social interactions and body representations. The series incarnate these shifting social boundaries and representations through transformative "Body Sculptures."
Under Exposed at Dixon Place NYC. Curated by Doug Post.
oo oo
single channel video with sound, 2015.
3:00 min. excerpt, TRT - 7:00 min.
Karla Carballar- video artist, Joshua Dumas-music composer, NTILIT wearables, Erin Cairns Cella-dance artist, Dages Juvelier Keates-dance artist
unfold into, 2016
unfold into, 2016
with and by Amelie Gaulier Brody, Rain Saukas, and Alexis Steeves
sound: Joshua Dumas
material consultant: Kerry Downey
Dages Juvelier Keates will perform in tandem with a sculpture by Elizabeth Tubergen, between it and a sound environment by Helene Kazan. The dance will nominally take place in the gallery, but the audience is invited to view it from the sidewalk of 5th Avenue. Keates' work will attend to the interstice, to space between the Cities.
i will incorporate your symptoms
i will put them into my body
i will contain you although i cannot hope to contain myself
one pours and one watches
one speaks and one listens
what is the amplitude of the voice?
how far does the sound travel
a terrain of tenderness
the real issue is the split that reifies the boundaries
To listen to the soundscape, please bring a device and headphones. Sound can be accessed by signing in as a New School Guest.
EVENT // Dages Juvelier Keates and Helene Kazan
Sunday, September 18th, 5 – 7pm
Aronson Galleries and the Kellen Auditorium, next to the gallery
66 Fifth Avenue

----

Q:
As a dancer, you are one body, trained and clearly individual. What kind of movement allows you to explore the interstices between your body and that of others? To explore the boundary?
A:
Every body is a series of open-ended questions—already a third space, already queering nature/culture, self/other. Without conquest, without seduction, without necessitating harmony, what might happen when we uncontrol our sociability, unhold our sense of boundedness? A big aspect of concert dance training is learning how to attune oneself to the group, to dance in unison. The practice that I am currently involved in with Alexis, Rain, and Amelie is one of being alone together. This work together emphasizes individuality; each dancer is seeking their own pleasure, opening to the pleasure in looking and being looked at, of giving and receiving weight. We are not institutions, we are not museums, we are not abstractions, we are not sites of occupation or projects of improvement. Our dancing bodies are a symphony of polyglot, polyrhythmic conversations.
Q:
You are reading Olivia Lang's book, Lonely City, which is about the kind of perception possible in a state of chronic social alienation. How do you see the impact of this on your process for this performance? What do you draw from it?
A:
Laing's work deeply impacted me in its description of the feelings of exposure in loneliness and the received sense that it is a personal failure. What do you do with your feelings of personal failure other than manically attempt to compensate? This particular studio practice grew from such questions following a sense of queer failure after the breakup of a long-term relationship and subsequent sputterings to intimately connect with another love object. Failing in love, in self-care, and in self-containment, I needed to find a studio practice that had room for my tremendous sense of self-precarity, to survive waves of loss. Finding the dyad too triggering to be vitalizing, my interest went towards finding inhabitable spaces within a group.
When Elizabeth described her sculptural vision, I kept thinking about animating that fecund gap between the cool stark angularity of metal and glass-- a space that is hypervisible but impenetrable. Laing's fertile ruminations on the explosive force of her subject's practices inspired my decision to use this platform to loiter, non-productively, with what can happen in the margins. A sliver of space between a steel sheet and a pane of glass- between a rock and a hard place.
In the dusk of fantasies of pharmacological redemption, many are turning toward plants for healing - weeds hold our medicine. Weeds that grow between cracks in the sidewalk have the bitterness, the willfulness, and the generosity that we also need to survive in between these monolithic squares. I am interested in the possibilities of these weed dances.
Laing writes about the "perpetual, harrowing, non-consensual beauty pageant of femininity." All of my work seeks to decolonize my body, to find ways of living beyond the punishment and policing of the gender binary. In training for concert dance, I learned to force myself to perform a specific kind of silent, hyperflexible, "resilience"-- to objectify my body and its possibilities for movement. The question for me now is how to move from a place of desire and pleasure while participating in the long and torrid violence of representation.
Free Your Flocking Clown: Gallery Edition 2016
Embodying insights from Ranciere, Agamben, and the fluffiest sheep on earth...
The inaugural flocking experiment with special guest Claire Astruc.

Permission Slip at Art Helix NYC. Curated by Wilson Duggan and Jackie Cantwell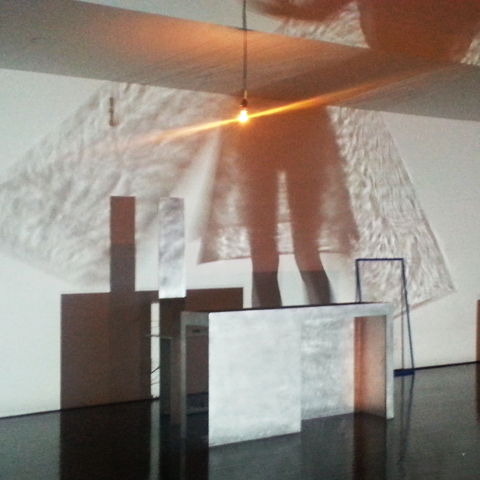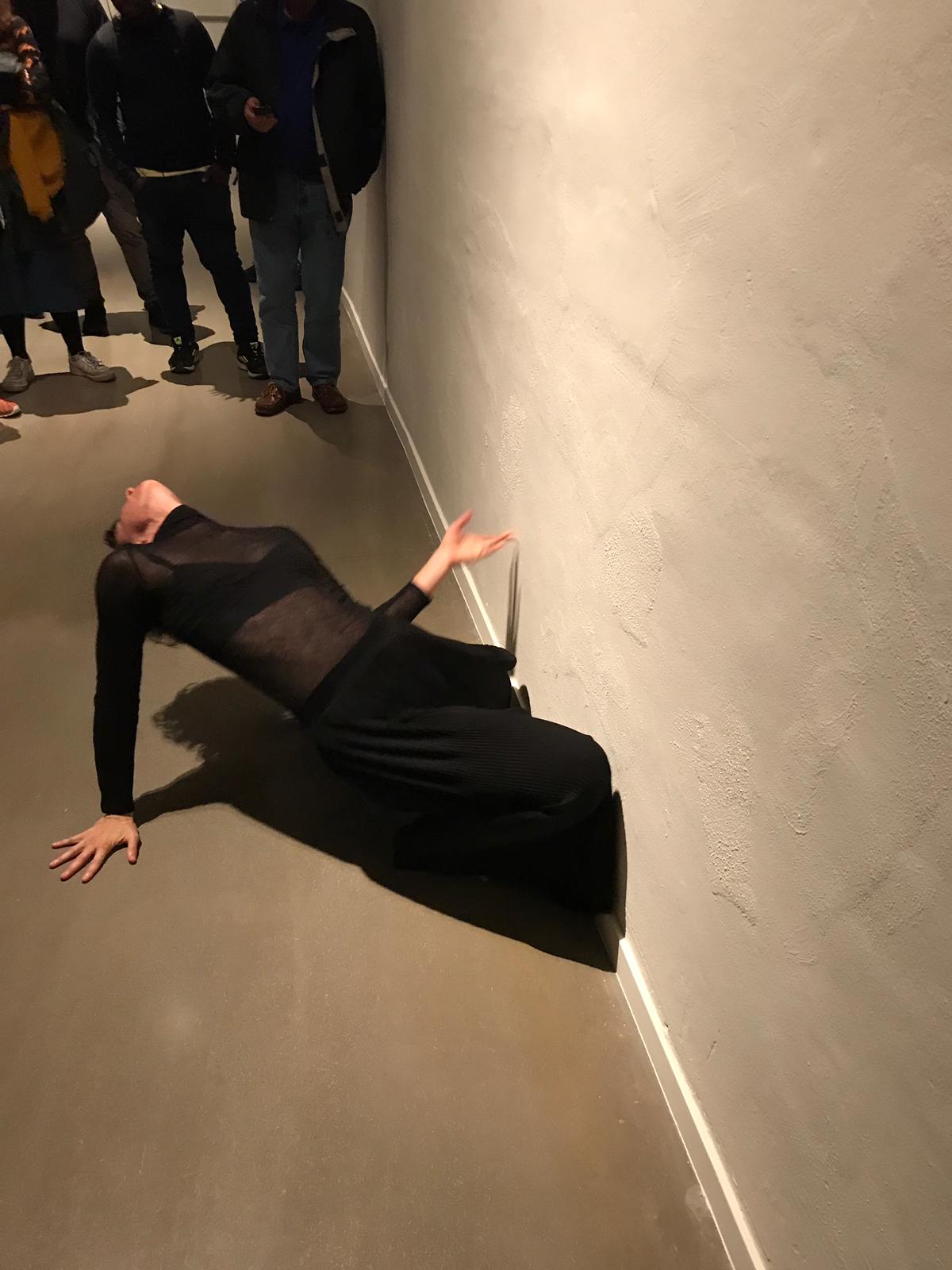 Contact / Crisis (excerpt)
Contact / Crisis (excerpt)
Performance by Dages Juvelier Keates and Alexis Steeves
Contact, with one's environment, with others, with oneself, is both an absolute necessity and a risk. Keates and Steeves are thrilled to expand their performative investigation of making contact through a shared discourse with Batteau on the materiality of surfaces, textures, volumes and tones. This performance privileges the implicit and often invisible virtues of dance: attention, listening and embodied responsiveness. As dance artists Keates and Steeves have asked, "How can we both invite and return the gaze while also expressing our own sight / sightedness as performers? How can we better author the visual representation of our bodies?".
Batteau's installation offers a rich world of possibilities. And in turn the performers can converse, merge, expand, and alter the 'frame' with which they are dancing.
This duet was originally commissioned by Tabakalera - International Center for Contemporary
Culture in San Sebastian, Spain for Natasha M. Llorens' exhibition L'INTRUS, October 2018.
Salon 2017 at Park Avenue Armory for Callidus Guild/Yolande Batteau
Empathicity 2017
HAM
with Shani Ha "Empathicity"
Our practice is one of being alone together. Our work emphasizes individuality; each dancer is always "soloing"-- seeking pleasure, looking and being looked at, unholding, enjoying the breath and gravity. We are not institutions, we are not museums, we are not abstractions, we are not sites of occupation or projects of improvement. Our dancing bodies are a symphony of polyglot, polyrhythmic conversations.